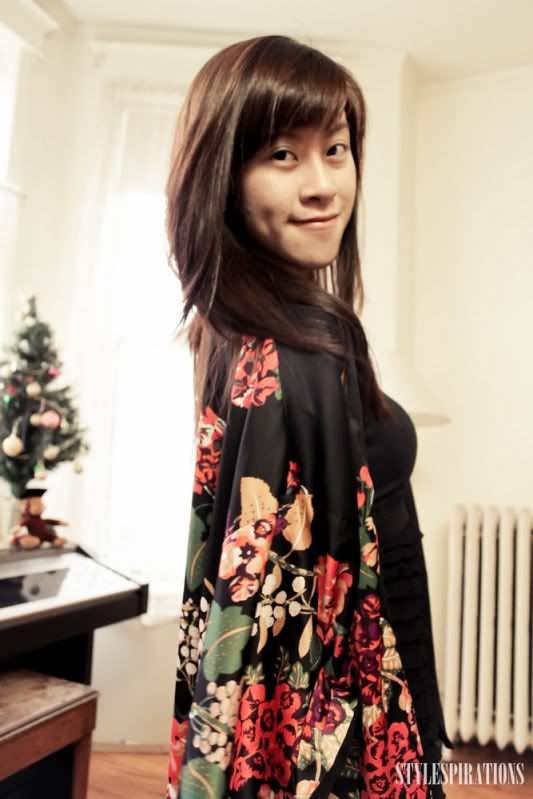 Excuse my tired, bloated, non-makeup face. I rolled out of bed early for once and wanted to shoot really quick for a November update. With horrible coordination and a lack of a wireless remote, I attempted to do some self-photos. Trust me when I tell you that it was a hot mess, both with me and my inability to focus the camera. Just wanted to update with my new obsession! I got this kimono wrap thing at H&M during their Black Friday sale for $5. I thought it was such a fun piece and can easily be worn up or down. I also did my Christmas shopping during Black Friday and ended up splurging a lot on myself as a reward for getting other people gifts. Trust me, half of the things I bought in-stores and online were for myself. This past weekend destroyed my credit card! I was going to do a haul post/review on the items I got because several of them were also skincare items as well as online purchases, but I'm honestly so busy that I might just save it for another post.

I have been extremely busy the moment I got back from Thanksgiving break. It was one thing after the next and I'm just seriously overwhelmed. There's projects, hurdles, plannings, exams coming my way like no end. Everyone's in finals mode and I can't believe I'm still preparing for my third set of exams. I'm never getting out of school, am I? Despite all of this, I feel...okay. Honestly, I'm slowly becoming a person who expresses my emotions a lot more. I used to be good at controlling them, but lately, I feel like outwardly expressing them helps me deal with them internally. I had it really bad last month where I was just completely down and hopeless, but this month, I learned to take it one day at a time. I have two exams Friday, my most intense ones, and I've been preparing since Monday. Day by day I tackle a project and tried my best to split them up. Although my face is taking a toll by breaking out again, my spirit is still strong this week and I'm surprised! At the moment, I am not extremely scared despite feeling unprepared and I have a lot of things on my mind and problems bothering me, but...I'm getting there. Tomorrow is going to be a long day and night of studying though. Optimism!
Although I will not annoy you with my haul yet, here's a glimpse of my favorite purchases. Marc Jacob's Lola (my first perfume EVER! Look at me, I'm a mature adult) and a splurge for an adorable necklace from Aldo.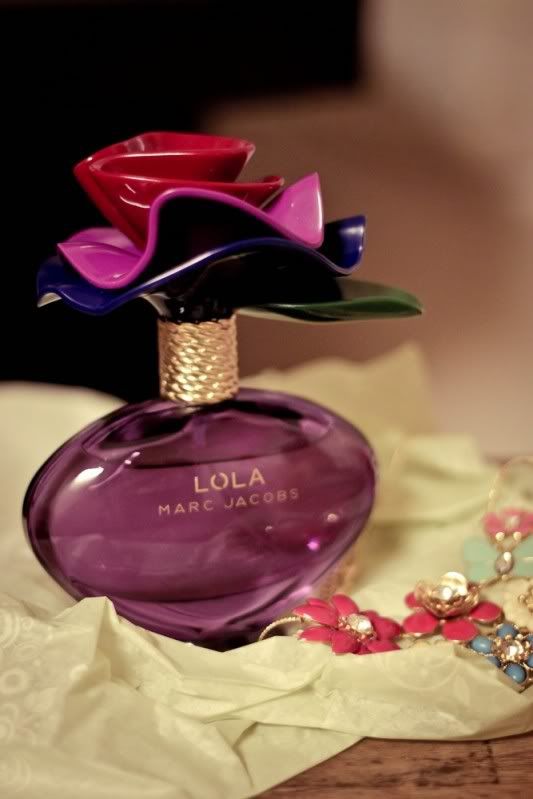 I apologize for a lack of a November wrap-up. I swear, I had it prepared, but I just felt like the picture quality wasn't as great as I wanted to and a lot of it was just food pictures so I wanted to spare any college students procrastinating by trolling my blog at 4am the pain. I know how it feels, hehe.
Before I end this post, I just want to give a little attention to a very special project that one of my high school friends, Samantha is doing. Samantha is an engineering major at U of I and is one of the sweetest, funniest, and manliest Polish chick I've ever met. Four years of laughter were contributed by her. She's planning on biking across America this summer and talk to cancer patients and survivors, as part of the Illini 4000 for Cancer. I personally have been impacted by cancer in the family and it's such an empowering journey not only for the patients and survivors themselves, but also for those who are indirectly affected. I think what she's doing is not only going to help her personally, but also positively affect others. If you can, please check out her
organization page: Illini4000
and help her make this trip possible!
Stay happy and warm!
Ai Nhu